OEM Gratings
Spectrum Scientific offers a volume manufacturing capability for diffraction gratings, either using standard masters or by creating new holographic masters to meet your exact specification.
Our OEM design and manufacturing capability includes:
Plane, Concave, Convex, Toroidal or Aspheric Gratings
Surface Relief Gratings
Volume Phase HOEs
Aberration Corrected Gratings
VLS Gratings
Standard coatings available include:
Bare aluminum
MgF2 protected or enhanced aluminum
SiO2 protected or enhanced aluminum
Optimized coating for deep UV to 120nm
Gold
For typical reflectivity curves, please visit our coating page.
The table below shows our current list of master gratings. Additional master gratings are produced on a regular basis so if you cannot find a suitable master it is worth checking to see whether alternative masters are available. If our standard gratings or sizes do not meet your requirements, we can manufacture custom masters to your specification: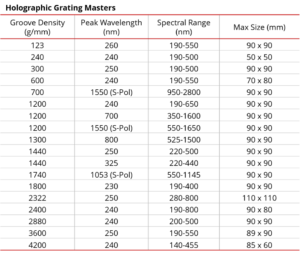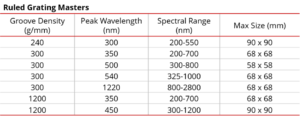 Please complete our Request Information form or contact our sales team to discuss your specific requirements.