Off-Axis Parabolic Mirrors
Spectrum Scientific's off-axis parabolic (OAP) mirrors eliminate aberrations that are present when trying to use spherical mirrors in off axis conditions. Off-axis parabolic mirrors ensure high resolution in compact system designs and are key elements in spectrometers as well as astronomical optical instrumentation.
OAP mirrors feature light weight monolithic designs with mounting features incorporated onto the mirror itself. They are achromatic focusing on collimation and have low scatter for UV applications. Spectrum Scientific offers optimized coatings for deep UV as low as 120nm as well as coatings to suit VIS, NIR and IR.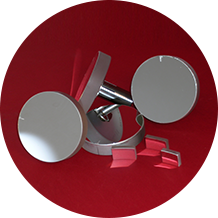 For volume pricing or custom designs, please complete our Request Information form or contact our sales team to discuss your specific requirements.
Off-Axis Parabolic Mirrors
Advanced Filter
Product Groove Density (g/mm)
Product Wavelength of Peak Efficiency (nm)
Product Wavelength Range (nm)
Product Apex Distance (inches)
Product Beam Deviation (arcsec)
Product Blaze Wavelength (nm)
Product Clear Aperture (mm)
Product Clear Aperture (%)
Product Deflection Angle (deg)
Product Deviation Angle (deg)
Product Dispersion (nm/mm)
Product Effective Fl (mm)
Product Peak Efficiency (%)
Product Spectrum Length (mm)
Compare
Part Number
Product Description
Price
Dia. (mm)
Clear Aperture (mm)
Quantity
More