Ruled Gratings
A ruled diffraction grating is produced by using a diamond tipped tool to cut parallel grooves into the coating on the substrate. These grooves are cut in a blazed or 'saw tooth' profile which allows the grating to be optimized for a given spectral region. This allows ruled gratings to be optimized for any region of the spectrum. However ruled gratings exhibit higher stray light compared to holographic gratings due to periodic errors, also known as ghosting effects.
Our stock gratings are available in 12.5 x 12.5 mm and 25 x 25 mm sizes but we can supply our standard range of gratings up to 68 x 68 mm or greater.
For volume pricing please complete our Request Information form or contact our sales team to discuss your specific requirements.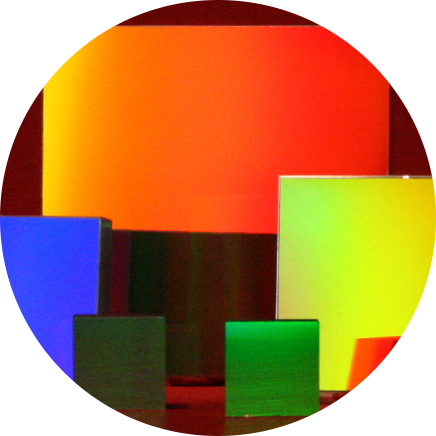 Ruled Gratings
Advanced Filter
Product Groove Density (g/mm)
Product Wavelength of Peak Efficiency (nm)
Product Wavelength Range (nm)
Product Apex Distance (inches)
Product Beam Deviation (arcsec)
Product Blaze Wavelength (nm)
Product Clear Aperture (mm)
Product Clear Aperture (%)
Product Deflection Angle (deg)
Product Deviation Angle (deg)
Product Dispersion (nm/mm)
Product Effective Fl (mm)
Product Peak Efficiency (%)
Product Spectrum Length (mm)
Compare
Part Number
Product Description
Price
Groove Density (g/mm)
Blaze Wavelength (nm)
Quantity
More

1200-350-012-R
1200 g/mm, 350nm Ruled Grating, 12.5 x 12.5 x 6mm
$85
1200
350

1200-350-025-R
1200 g/mm, 350nm Ruled Grating, 25 x 25 x 6mm
$125
1200
350

1200-450-012-R
1200 g/mm, 450nm Ruled Grating, 12.5 x 12.5 x 6mm
$85
1200
450

1200-450-025-R
1200 g/mm, 450nm Ruled Grating, 25 x 25 x 6mm
$125
1200
450

240-300-012-R
240 g/mm, 300nm Ruled Grating, 12.5 x 12.5 x 6mm
$85
240
300

240-300-025-R
240 g/mm, 300nm Ruled Grating, 25 x 25 x 6mm
$125
240
300

300-1220-012-R
300 g/mm, 1220nm Ruled Grating, 12.5 x 12.5 x 6mm
$85
300
1220

300-1220-025-R
300 g/mm, 1220nm Ruled Grating, 25 x 25 x 6mm
$125
300
1220

300-350-012-R
300 g/mm, 350nm Ruled Grating, 12.5 x 12.5 x 6mm
$85
300
350

300-350-025-R
300 g/mm, 350nm Ruled Grating, 25 x 25 x 6mm
$125
300
350

300-500-012-R
300 g/mm, 500nm Ruled Grating, 12.5 x 12.5 x 6mm
$85
300
500

300-500-025-R
300 g/mm, 500nm Ruled Grating, 25 x 25 x 6mm
$125
300
500

300-540-012-R
300 g/mm, 540nm Ruled Grating, 12.5 x 12.5 x 6mm
$85
300
540

300-540-025-R
300 g/mm, 540nm Ruled Grating, 25 x 25 x 6mm
$125
300
540