Hollow Retroreflectors
Spectrum Scientific's hollow retroreflectors (HR) have a rugged, one piece construction and are manufactured from solid aluminum making them insensitive to vibration, position and movement and ideal for use in Michelson type interferometers, FTIR spectrometers and laser based tracking systems.
Key advantages of our hollow retroreflectors include:
Ability to incorporate mounting features and fiducials onto the retroreflector itself for easy alignment giving additional design and cost benefits
Return beam accuracy < 2 arcsec
Gold or Aluminum coating (bare metal or with protective overcoat)
If you would like to learn more about the advantages of our Hollow Retroreflectors, please read our white paper Monolithic Hollow Corner Cube Retroreflectors for Precision Metrology.
For volume pricing or custom designs, please complete our Request Information form or contact our sales team to discuss your specific requirements.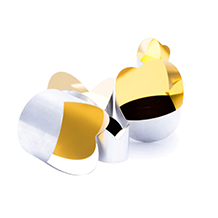 Hollow Retroreflectors
Advanced Filter
Product Groove Density (g/mm)
Product Wavelength of Peak Efficiency (nm)
Product Wavelength Range (nm)
Product Apex Distance (inches)
Product Beam Deviation (arcsec)
Product Blaze Wavelength (nm)
Product Clear Aperture (mm)
Product Clear Aperture (%)
Product Deflection Angle (deg)
Product Deviation Angle (deg)
Product Dispersion (nm/mm)
Product Effective Fl (mm)
Product Peak Efficiency (%)
Product Spectrum Length (mm)
Compare
Part Number
Product Description
Price
Dia. (mm)
Clear Aperture (%)
Quantity
More

HR-127-10-AL
12.7mm Clear Aperture Aluminum Retroreflector, 10 Arc sec
$260
12.7
90

HR-127-2-AL
12.7mm Clear Aperture Aluminum Retroreflector, 2 Arcsec
$550
12.7
90

HR-127-5-AL
12.7mm Clear Aperture Aluminum Retroreflector, 5 Arc sec
$340
12.7
90

HR-127-10
12.7mm Clear Aperture Gold Retroreflector, 10 Arc sec
$270
12.7
90

HR-127-2
12.7mm Clear Aperture Gold Retroreflector, 2 Arc sec
$560
12.7
90

HR-127-5
12.7mm Clear Aperture Gold Retroreflector, 5 Arc sec
$350
12.7
90

HR-254-10-AL
25.4mm Clear Aperture Aluminum Retroreflector, 10 Arc sec
$360
25.4
90

HR-254-2-AL
25.4mm Clear Aperture Aluminum Retroreflector, 2 Arc sec
$550
25.4
90

HR-254-5-AL
25.4mm Clear Aperture Aluminum Retroreflector, 5 Arc sec
$450
25.4
90

HR-254-10
25.4mm Clear Aperture Gold Retroreflector, 10 Arc sec
$370
25.4
90

HR-254-2
25.4mm Clear Aperture Gold Retroreflector, 2 Arc sec
$560
25.4
90

HR-254-5
25.4mm Clear Aperture Gold Retroreflector, 5 Arc sec
$460
25.4
90